Category: Children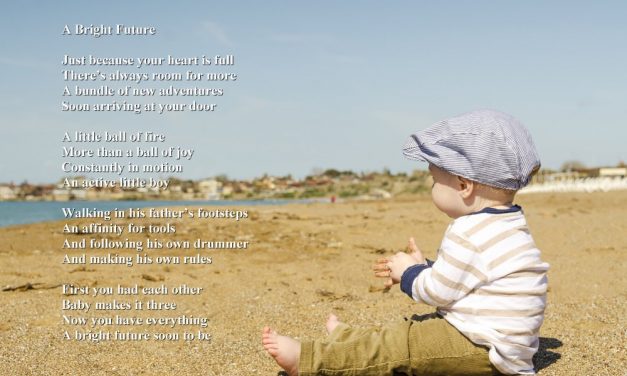 Just because your heart is full There's always room for more A bundle of new adventures Soon...
Read More
How will you be remembered How will you be known What will people talk about When you are standing at God's thrown Some people make a difference Just by being here Approaching every day with strength And not consumed by fear...
Read More
Welcome to the starting line The world seems bright and new The crowd begins to gather They've been waiting there for you Don't think of it as expectations Or goals that you must reach Think of it as an audience And people you...
Read More
A little ray of sunshine Shimmering and bright Will I see you tomorrow? After the dark of night Hardest is the waiting Wondering if the sun will rise Will God please reward us And let us take home our prize Knowing life is...
Read More
Come with me and watch me swing There's much to do and songs to sing Throw a ball or catch a bug Or run into a waiting hug Come with me and take my hand I'm the leader of the band We'll get in line and have parades Quick...
Read More
From the moment that I saw you The twinkle in your eye I knew you'd call me Daddy Until the day I die You never really crawled that much But then one day you walked And went from silly noises To someone who just talked Soon the...
Read More
A little ray of sunshine A smile sent from God The start of a new journey On a path that is well trod In some ways a reflection In others fresh and new Reminders of a presence And love that's oh so true So now begins the story...
Read More
If I yell loud enough Will it stop the screams? Or take away the nightmares That haunt me in my dreams If I cry long enough Will it wash the blood away? And take away the fear I feel Every single day If I laugh strong enough...
Read More
The trees have lost their color The days are dark and gray Fall is near it's ending Winter is not far away The playground oddly silent No laughter, fun or games Not a single answer When calling out their names Where is that they...
Read More
Presents must be opened Games they must be played It's those memories and moments For anything I'd trade There is one solution Just take off all the tags Gather them together And put them in some bags Take them to a shelter Or a...
Read More
Words we take for granted We say them every day Thinking that tomorrow It will still be that way For some it is a promise For others just a wish A chance to give a hug again Or just to blow a kiss Tomorrow will be different The...
Read More

Categories
Pages
Archives